Explaining the design flow of the website
Consultation
Red Berries follows a user-first approach and keeps the user journey in mind while designing the website interface. The website design process is executed by our experts who help you design a website tailor-made to your needs.
Development
Our team at Redberries Sharjah has brilliant website designers who are well-qualified for the task. Using their skillset, we are able to develop visually appealing and aesthetic websites.
Quality Assurance
We have quality checks in place to ensure there are no flaws or any vulnerabilities left behind before we transfer the ownership to you for managing the website.
Implementation
Once we get the green light on the final website, our team will go live with the website and activate it on the servers.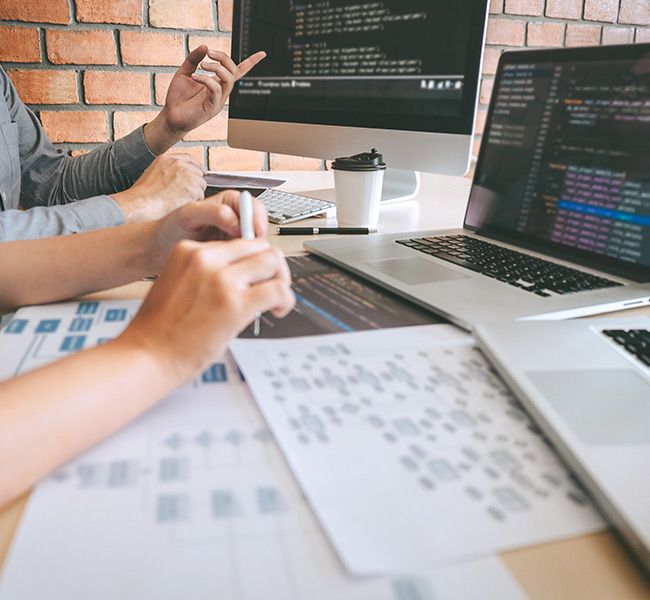 What is web application development?
The website acts as a channel of communication between a brand and a user. At Red Berries Sharjah, we ensure to develop a website using the latest software at our disposal to stand out from the rest. Be it redesigning the website, an upgrade or building it from scratch, we have a wide range of web development services to offer.
Frameworks
Essentially, websites have two key components: Frontend and Backend Web Development. The front end is where the user views & engages with the website. The backend is where the entire functionality of the website is dependent. Every button, banner, image sizing, font size, information filled in the form is dependent on the backend of the website. Backend ensures smooth functionality of the frontend website. The frontend helps users to navigate the website whereas the backend helps to build that frontend and store information gathered from the website. Our Sharjah team has in-house specialists who have years of experience developing websites on various frontend frameworks such as Angular, React, Vue, js, JavaScript and backend frameworks like PHP, Java, or Ruby and so on. Our team ensures to deliver the best possible solution that aligns with your website goals.
Applied methods
Redberries team has experts specialized in Kanban, Scrum, and Prince2 and the Lean IT approach. Our experts keep themselves updated on the latest trend since we work in a dynamic industry. We always keep the requirements of our clients as our top priority. Our website design process starts with a client-first approach. Developing a website is a complex process that needs coordination among various departments within the team. Therefore, it becomes very crucial to choose an appropriate strategy while creating a website. Project managers at Red Berries Sharjah have years of experience to ease the entire website development process from start till the end as we use the latest technologies and have put in place management procedures.
Quality Assurance
We have an in-house quality assurance team that does the final checks on the website project and evaluates as to website design is as per the client's requirements or not. Your users' trust you and we will do everything to ensure that trust strengthens with time. Therefore, we have experts checking for any vulnerabilities in the system that does not leak your client's data.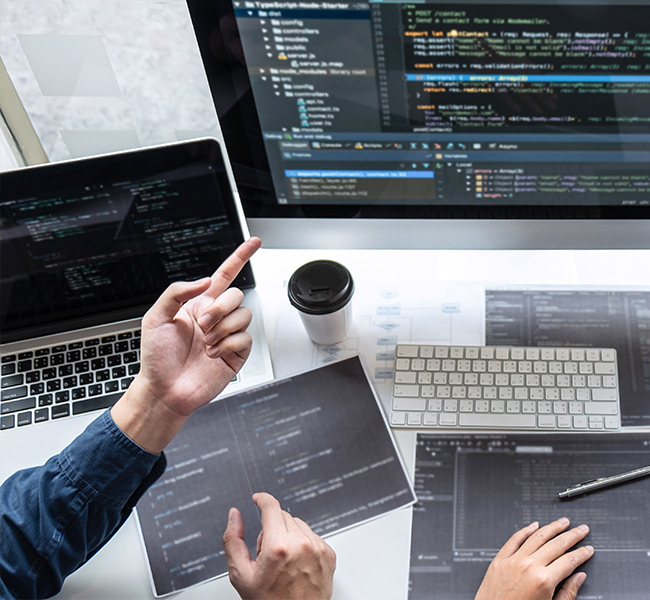 Why Redberries?
We bring nearly 15 years of experience to the table. Along the way, we have learned, pivoted, and adapted to various changes in the world of web development and have established ourselves as market leaders. Redberries Sharjah has a team of experts who are keeping themselves updated with the latest technology on a frequent basis. We provide services such as mobile application development, search engine optimization, custom web development, and user experience research. Red Berries have a proven track record of delivering satisfaction to our clients by timely communicating and being transparent.
Stay ahead of your competitors
We give importance to the needs of the client as that is the secret ingredient to our recipe of success over the years. We develop websites that will not only meet but even at some level, exceed your expectations. As we employ specialists who have decades of experience to add their work, we can create tailor-made solutions to fulfil your online presence needs. We also help in recreating your existing website to match the industry standards of today. We can assure timely and transparent time-to-time communication to keep you in the loop of the progress made. Connect with us to get started on your web development journey.
Let's Get Started with your project
Fill the form and give us more information about your needs and wishes.
REQUEST QUOTE
BASIC
$1700
Read More
No of Pages – Upto 5
Additional Pages $ 100
Responsive Design
Custom Layout Design
SEO Semantic Html Code
CMS
Integrated Contact Forms w/ Captcha
Main Banner Management
News Management (if applicable)
Blog
Event Calender (if applicable)
Event Booking (if applicable)
Testimonials Management
Newsletter
Social Media Buttons
Brochure Management
Jobs Management
SEO Plugin
Google Location Map
XML Sitemap
URL Submission in SEs'
Google Analytics
Website Training Up to 2 Hrs
CONTACT US
STANDARD
$2750
Read More
No of Pages – Upto 10
Additional Pages $ 100
Responsive Design
Custom Layout Design
SEO Semantic Html Code
CMS
Integrated Contact Forms w/ Captcha
Main Banner Management
News Management (if applicable)
Blog
Event Calander (if applicable)
Event Booking (if applicable)
Testimonials Management
Newsletter
Social Media Buttons
Brouchure Management
Jobs Management
SEO Plugin
Google Location Map
XML Sitemap
URL Submission in SEs'
Google Analytics
Website Training Up to 3 Hrs
CONTACT US
ADVANCED
$6000
Read More
No of Pages – Upto 15
Additional Pages $ 100
Responsive Design
Custom Layout Design
SEO Semantic Html Code
CMS
Integrated Contact Forms w/ Captcha
Main Banner Management
News Management (if applicable)
Blog
Event Calander (if applicable)
Event Booking (if applicable)
Testimonials Management
Newsletter
Social Media Buttons
Brouchure Management
Jobs Management
SEO Plugin
Google Location Map
XML Sitemap
URL Submission in SEs'
Google Analytics
Website Training Up to 5 Hrs
CONTACT US