RedBerries offers specialized Vue.js developers for hire, who can create solutions using cutting-edge tools and components for robust, cutting-edge layouts and top-notch performance.
Also, to help you get off the ground quickly and stay ahead of the competition, RedBerries uses Vue.js, a progressive JavaScript framework, to construct well-architected, fast-loading apps.

Advantages of Using Vue.js for Any of Your Projects
Scalable
The Vue.js ecosystem allows for a great deal of adaptability and scalability. It's an excellent choice for young companies looking for a technology that can help them launch their operations rapidly and scale up as their needs evolve.
Easy to Integrate
Integration with third-party libraries and solutions is straightforward within the framework, cutting down on development time. The Vue community is quite active, and many people work together to provide new features and fixes.
Accessibility
Vue.js's low barrier to entry means that both novice and seasoned programmers may contribute to its growth, which in turn reduces training time and improves productivity.
Efficiency
Vue.js, being a lightweight and efficient framework, is ideal for such projects. Due to the framework's low memory footprint, app performance improves dramatically, resulting in a superior end-user experience.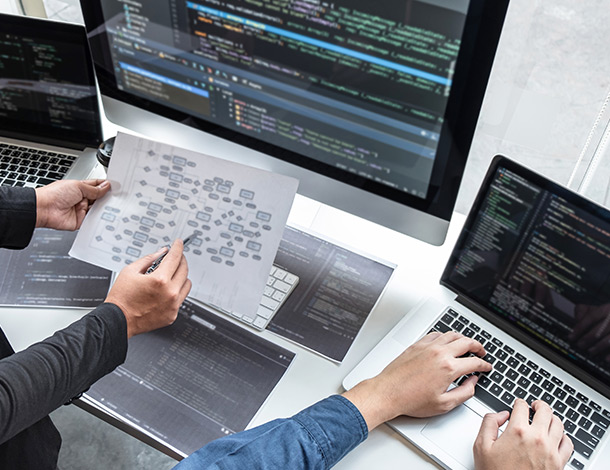 Vue.js Services Offered At RedBerries
Web-Based Application Development
Our top-notch Vue.js app development services will help you quickly create high-performing, user-friendly online applications. Your concept will be brought to life with the help of our experienced staff.
Migration Services for Vue.js
Is there something wrong with your product? Take use of our knowledge to update your software to a framework that uses less resources.
Vue.js Development from Scratch
When it comes to difficult tasks, we never resort to using premade templates. You can trust that our staff will carry out your ideas in the most effective manner possible, regardless of what they are.
RedBerries' Secret To Keep Its Clientele Happy
As an experienced Vue.js development agency, we know that applying a single standard of evaluation to all of our work is a bad idea. That's why we employ a different tactic depending on the nature of the work at hand.
Moreover, our front-end developers focus on providing seamless cross-platform UIs. We can handle any kind of Vue.js development, from B2B to B2C apps, because we stay on top of the current UI/UX trends.
Are you interested in our Vue.js development services?
Email us, we are sociable!
All queries are answered within 10 hours during work days and within 16 hours during holidays.