At Red Berries, we believe that the success of any advertising campaign is determined by delivering more conversions at the lowest expenditure. This can be attained when the campaign is backed by superior knowledge and best practises, efficient account management and state-of-the-art techniques for optimization in a two pronged approach, that is, manual or automatic. A well planned PPC Dubai advertising campaign can help your business to go beyond the usual curve and get ahead in the competition. Through the implementation of an effective strategy, in depth knowledge, keyword research and a profound understanding of Quality Score Algorithm that Google Adwords takes into consideration, you can deliver a very impressive result.
To bring about the full scale change in your business online, it must be delegated to shoulders that are experienced enough to hold up the mantle of change. At Red Berries, we have the requisite expertise and industry knowledge to cater to a wide variety of advertising campaigns needs to give back laudable results to our clients..
Premium Tools and Analytics Usage
for driving up conversions, management, and supervision of advertising campaigns
Qualitative and Promised Results
Best in class advertising campaign management for quick results
Data Driven Approach
Optimization and regular tweaks in the advertising campaign based on A/B testing metrics
Prompt Reporting
Comprehensive outline of results on a monthly basis with analysis
Certified PPC Agency Dubai With Trained Professionals
Handled by advertising experts with best industry standard practices
Types of Ads Handled by Red Berries
Text Ads
One of the most basic advertisement formats that navigate customers to the right place in terms of the services or search they put in. The team at Red Berries understands the nuances involved in these types of ads and provide the most effective ad copies that grabs the attention and engages the audience. Text Ads are made to assist with-
Creating a brand appeal that resonates with the audience in rem
Ad optimization for better execution on mobiles
Incorporating important keywords
Adjustments and modifications
Display Ads
These ads are served on video streaming platforms like YouTube or while looking up Gmail or visiting other websites connected with the Google Display Network. In short, all visual ads on the Google Display network are efficiently managed by us.
Our skilled campaign designers and executors create ads which are best suited for mobile devices and operating systems. They decrease the size of the file to load it faster and usher in higher viewability.
Retargeting Ads
In order to ensure that all ads are reaching the right people to the fullest of their potential, the team runs them on various platforms with a retargeting strategy. These plans are laid out to lay the foundation of a strong connectivity with your brand and make a loyal customer base who return to you for services. With repeated messages and interactions, cookie data and third party data, conversion of customers to your site plummest, irrespective of the geographic location of your customers. At the same time, we like to take proper care of the fact that all ads are designed to be catchy without being a nuisance for our viewers.
Appealing PPC Agency Advertising Campaign Designs
The visual appeal of the ads is of foremost importance when you are trying to have a customer shop from your web store. Any lag in the procedure can lead to a bounce rate augmentation and adversely affect the quality score and landing page of your brand. Adding images to the product ads and the standard user ratings and starts are pivotal ways to engage the multitude of audiences into clicking to your ad and reaching your website.
Integrated Services
More than just PPC advertising, Red Berries holds fort with paid ad searches expertise and SEO services in Dubai. The specialists are trained to make data-driven decisions to generate high traffic. Also, as web development services in Dubai, we make highly immersive and utilitarian websites that make more people come to it.
The Pay Per Click advertising campaign at PPC advertising agency Dubai includes the following aspects-
Keyword research
Ads development
Campaign setup
Landing Page optimization
Bid Management
ROI Tracking
Campaign Analysis
Monthly Reporting
Increased sales and leads
Extensive Customer Support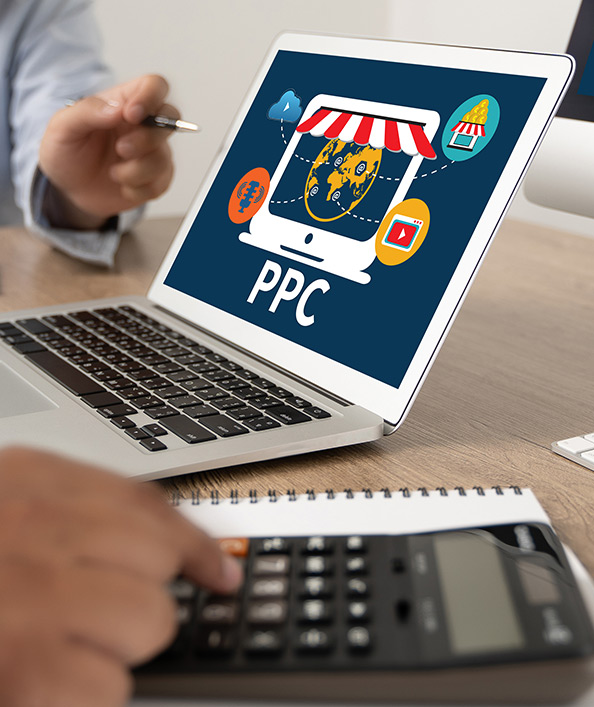 In a highly competitive online world, where time is of the essence with services in question, it is only wise to grab the opportunities right away. This could be the defining factor for the success of your business and assist you to grow a thriving business in the virtual dominion.
PPC Advertising is one of the strong suits of Red Berries, providing PPC services in Dubai. We also cater to a host of related and essential services like conversion rate optimization, profit maximization, and landing page analysis among other services. These services are versatile with universal applicability. Right from a small-scale business to a major corporation, all businesses need these marketing services to expand their ambit online. The focal benefits of advertising services are-
Identifying New Clients / Business Generation
Raising Awareness
Improving Sales
What sets our services apart from the whole plethora of similar offerings is that we seek beyond the pale of the obvious. At Red Berries, we do not stop at optimizing the front end alone like ad copy, in fact, we handle all aspects of the sales funnel, landing pages, web copies, etc. Managing these and tapping upon the potential of these backend faculties augment the overall revenue from your website. To obtain the most favoring results from your investments, it is best to hire a reputed agency with an authority with PPC services.
The Big Benefit of Working With Red Berries
As a leading advertising agency in Dubai, we have achieved landmarks with phenomenal services and have proven to be better with unmatched quality service than other mainstream marketing agencies sporadically popping by. Our aim is to keep your website as the top ranking one on Google search. More than this, our services include-
Brand visibility to the right customers with optimum time and placements
Lower marketing costs with increasing the revenue
Comprehensive solutions for lead generation
Brand Connectivity
The majority of the global population is consistently migrating to online resources to cater to their needs. They search for products and services in the digital domina. In such a space, it is imperative for your brand to be nothing short of the best. With Google Ads, your services and products are supplemented with the fruitful information that makes searching for them easier. Handled by our notable team of experts, we know all the right ingredients that make any advertising campaign successful spanning across all platforms, be it Google ads or Bing Ads.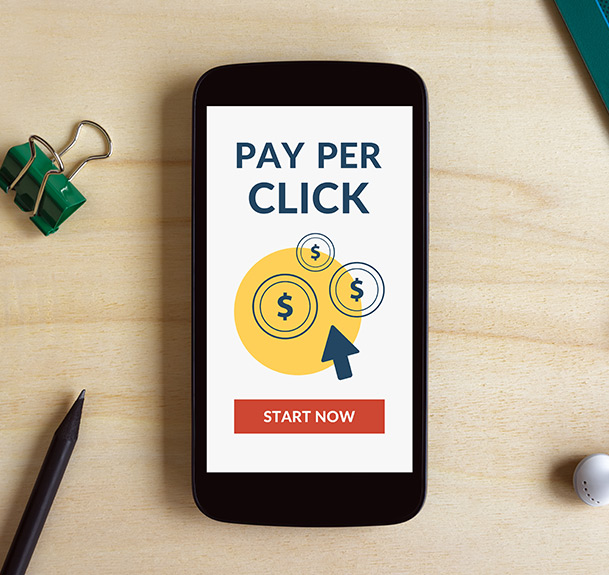 Optimization Procedures for Campaign Run
An array of tasks are run on a regular basis to ensure that the entire campaign is running smoothly and up to the estimated parameters.
Bid Optimization
Bid amount is adjusted on a daily basis to give back the maximum ROI for your advertising campaign including optimization of bids according to the best hours of the day that will yield the most visibility for you brand.
Negative Keywords
Determining the keywords that are throwing back wrong results and elimination of the same. In the du process, identification and assimilation of other related keywords in the advertising campaign to give more results.
Landing page Optimization
Landing page analysis and making the customer experience on it rather enriching that in turn adds into the conversion rates and ROI.
Google Support
When a team of Google certified advertising experts are handling your campaign, you can speak directly with Google on your behalf at an event of hassles with your account.
Conversion Setup
Tracking code setup that helps make the advertising decisions more beneficial for all. Backed by adequate data, all decisions are made on the basis of number and best statistical readings.
Competitor and Trend Analysis
Tracking and keeping in tune with the competition is vital to stay ahead of them. Furthermore, its is important to make use of all trends that could help gain engagement in the advertising campaigns being run.
Detecting False Clicks
Making all moves to avoid actions that could potentially result in many unprofitable clicks. At The same time, keeps track of the legitimate and qualified leads gained through the advertising campaigns.
Budget Utilization
Continuous adjustments and fine tuning the advertising campaign to gain the lowest amount on every click , allowing the amount allocated to be used more judiciously.
Account Audit
Comprehensive report of your advertising campaign that highlights the nadir as well as the Advertising Set Up
PPC Advertising Set Up
Competitor Analysis
In Depth Keyword research
Relevant Ad Groups Creation
Geo-Targeting
Creation and Optimization Of Landing Pages
Analytical Configurations
PPC Advertising Campaign Management Services
Keyword Optimization
Ongoing Bid Management
Monthly reporting and Recommendation
Fortified by exceptional knowledge in this field, spanning across multiple and varied sectors of industries, we have a strong foundation of understanding for your business. The advertising experts with us take into consideration all relevant facets before curating a campaign that promises a commendable result. This in turn resonates profitably for your online brand profile. In addition to this, a reliable source of traffic for your website is established. The PPC Advertising Campaigns designed at Red Berries have their applicability across these platforms-
Pay Per Click (PPC) Advertising is one of the most effective ways of advertising as you only pay if someone clicks on your ad. This maximizes your ROI and keeps the cost spent on it minimal. Search & Display ads platform commonly use this type of advertising. Advertising is also effective because you can track the click-through rate and the sources from which the link has been clicked which helps you identify the customer journey and enables us to pinpoint the origin of the click. This also helps to understand the behaviour of the user and gives us the insight to improve on it, accordingly. Our team has years of experience in optimizing advertising campaigns and helps your business to achieve the desired results. We understand your products and service offerings in depth to help develop all the required digital assets, accordingly. We provide customized advertising campaigns to reach maximum efficiency through it.
Your Personal PPC Advertising Partner
In order to run a successful PPC campaign for your business, just implementing a strategy is not enough. We continuously monitor the results and keep on optimizing it frequently to get your desired results. By optimizing the campaign, we not only reach more people but also discard the audience who are not relevant to your brand. We follow the best industry practices to make your PPC campaigns a success. We help your business grow through it by understanding your company goals and align it with the campaigns.
Email us, we are sociable!
All queries are answered within 10 hours during work days and within 16 hours during holidays.