We Provide The Following WordPress Development Services
Red Berries offers an in-house team of WordPress developers and designers who have vast experience with this platform. We provide WordPress development, design, support, training, hosting, and security consulting in all versions.
Web Development for WordPress
The creation of secure and high-quality code is only the beginning. Our custom WordPress web development firm takes an innovative approach to building quick, dependable, and responsive websites in line with your business requirements. WordPress Migration Migration does not have to be a difficult undertaking. You may convert your website from Squarespace, Wix, Joomla, Drupal, or any other system to WordPress with our professional WordPress migration services.
Custom Plugin Creation
Do you wish to improve the features and functionality of your WordPress website?
Aside from typical operations, our WordPress plugin development firm can assist you in adding several features to your website.
WordPress Theme Creation
Using our WordPress theme creation services, our team can construct a one-of-a-kind and eye-catching website. Our competent WordPress designers' goal is to create a professional website using a theme of your choosing.
WordPress Search Engine Optimization
It comes as no surprise that everyone desires a high search engine rating. Our skilled WordPress SEO team can assist your website in ranking high on search engines like Google, Bing, Facebook, Yahoo, Baidu, and others.
Integration of Third-Party APIs
We have extensive experience integrating the most popular and well-accepted APIs into the WordPress CMS. Our WordPress REST API developers are capable of making the APIs operate.
Hosting for WordPress
We will host your company on our dedicated servers, ensuring a quick, professional, and dependable service from the start. Your website will receive daily backups of both site files and databases, so you can be confident that we will be able to restore it fast and efficiently if something goes wrong with it. We are dedicated to delivering the best hosting environment for all of our clients' websites.
Why Should You Use WordPress?
Thousands of add-ons that are user-pleasant and simple to use.
WordPress is a popular CMS because it is simple to use and has a large number of plugins.
This open-source CMS is free to install and upgrade, and it may be readily customized in terms of style and functionality.
CMS For All Purposes
This open-source Content Management System (CMS) is quite easy to use due to its user-friendly interface and it provides solutions for all of your requirements. But its installation could lead to many inefficiencies if best practices are not followed. We at Red Berries have the expertise of building a WordPress website from scratch. This gives us the flexibility to add or remove features which are required based on your needs. We also consider the user experience, search engine optimization, loading speed of the website as factors to enhance its performance. This helps your business to meet the desired goals of the website and grow your business.
WordPress Hosting Expertise
We provide end-to-end WordPress solutions so you don't need to worry about anything else! Our servers provide optimum performance, bandwidth, and website speed to ensure that your website gets more traffic at all times. WordPress is the choice of CMS at Red Berries as it is easily accessible and can be customized as per your needs. Since the digital landscape is dynamic, WordPress has tools in place that can adapt to the ever-changing needs of the technological world. We can upgrade your website and stay ahead of the competition.
Designing Responsive Websites
Websites are nowadays browsed through many devices of various screen sizes. We at Red Berries ensure that the websites are responsive on all devices across various operating systems and browsers. Developing a responsive WordPress website leads to more engagement which leads to more conversions. We consider the user journey and website loading time as some of the many factors to design a responsive website.
Building WordPress Websites For Everyone
Our team has the capability and the expertise to develop WordPress websites for all type of clients. From startups to enterprises, we have worked and developed websites for all type of clients. We modify CMS and provide you the solution which matches your requirements.
Support Services
We provide hands-on support to your team upon request. From inception to website post-launch, we cover it all for you. Our support services help your business run smoothly and we ensure no operational costs are incurred. We also train your team on updating the website yourself as the WordPress interface is quite easy. This helps your business to be self-reliable and make small modifications from time to time on the website.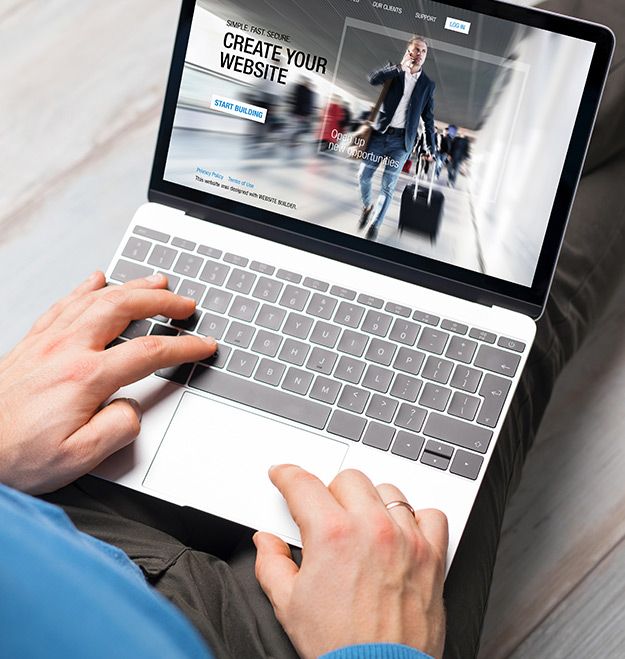 WordPress Website Development Process
Consultation: We try to understand your needs and requirement in order for us to plan and come up with design concepts. We help you develop goals for the website in order to measure the ROI. We also discuss and finalize the scope of work at this stage.
Planning: During the planning stage, we help you decide on the technical options of the website and narrow down the features which will be implemented on it. We also conduct competitor analysis and research on how to best position your website.
Design: Once the sitemap, content and the plan is finalized and approved, we proceed to the design stage. We keep in mind the brand guideline and design it accordingly. The website finally takes up a visual form and you would be able to see how exactly it will look like.
Development and Testing: We start developing and optimizing the website for search engine purposes once the design is approved. We also conduct regular testing to see if there are any bugs which need fixing.
Launch: Lift off! But that's not the end. We perform regular tests to see how we can improve your website and implement the latest technological tools if required.
We at Red Berries is a WordPress Development Company that provides customized WordPress Development solutions and delivers them to meet your requirements. We refrain from using generic templates as they may not be the ideal solution for your business. If you're looking for a web design company in Dubai? Get in touch with us. Let's have a conversation about how we can help find a way to make users say "wow" to your website or app.
Frequently Asked Questions