What does
website maintenance
mean in Dubai?
Frequently auditing the website for bugs, mistakes and keeping the content of it updated is called website maintenance. Website maintenance should be done as frequently and regularly as possible so as to keep the website running smoothly, increase traction and improve the SEO and Google rankings of the website.
Why should Dubai-based firms invest in website maintenance?
Often, new businesses in Dubai make a temporary website or don't invest a lot of time initially while building a website. These businesses may fail to reach their website goals & objectives even if they have aesthetic-looking websites as they may not be updated or there could be broken links or the website doesn't load time, the reasons are infinite. Here are some top reasons why your website needs a regular checkup:
Google Rankings:
Google rankings have been highly influential when it comes to searching for a business, product, or anything that the user is interested to look for. Dubai being a tech-driven city, most of the users first search on Google and browse through only the first page of Search Engine Results Pages. You need to ensure that your website's Search Engine Optimization (SEO) has been done accurately and need to check that as regularly as possible. You need to update the keywords, on-page content, blogs, news articles (if any) on the website to have a better SEO.
User Engagement:
You need to ensure that your website is user-friendly and people who aren't aware of your business can easily understand, interact and browse through the website. A hassle-free digital browsing journey will not only increase website traffic but may also help you grow your business through new genuine leads.
Secured Website:
This is one of the most important aspects of website maintenance especially if you are e-commerce based in Dubai. You need to ensure that the users entering personal information on your website won't be hacked or misused by third-party integrated platforms in any way. Ensure to update your Content Management System (CMS) for security and get an SSL certificate for checkout/payment pages.
Catching Up with Trends:
The more aesthetic and user-friendly your website is the better chance of getting more business. Websites have evolved a lot since the inception of the internet. To stay ahead of the competitors, identify the upcoming new trends on improving the digital journey of your website and identify ways to implement them on your website.
What are the things you need to consider for website maintenance?
There are plenty of tasks that have to be taken care of on a weekly, monthly, quarterly, and yearly basis.
Weekly basis:
Ensure all pages are loading without any bugs
Backup your latest version of the website and cross-check if it has been saved
Updating the software and CMS plugins
Check if the forms are working properly
Remove unwanted comments from blogs and pages
Check for broken links on all pages & fix the links
Monthly basis:
Checking the load speed of the website and ensuring nothing is slowing it down
Make security scans and ensure everything is in order
Collect the data and analyze the website statistics for last month
Update existing or add new blogs
Quarterly basis:
Audit the website and suggest improvements
Check for creatives that may need to be updated on the website.
Audit all aspects of SEO to ensure they are effective
Test and modify pop-ups, forms, call to action on a website
Yearly basis:
Change the references to current year (eg: copyright year)
Check pages for grammar, typos, grammar, and accuracy
Remove unwanted email addresses from the website database
Renew the domain name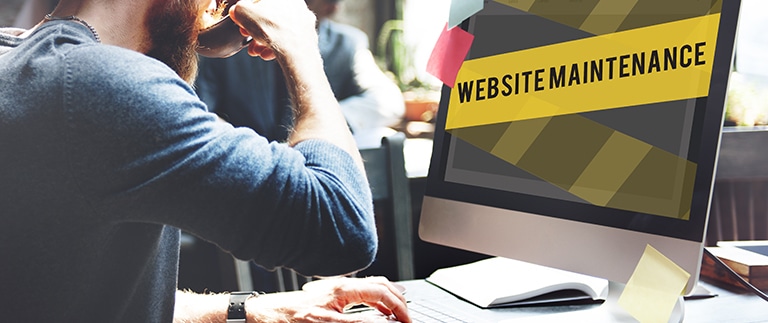 How Much Does website maintenance Cost?
The cost of website maintenance depends on the type of website which has been created. Small personal blogs may not cost much compared to e-commerce websites, as e-commerce websites have a lot of things that can be changed/modified. There could be websites that are made for marketing purposes alone whereas there could be custom-built websites that could cost a lot more than even e-commerce websites. The reason is that custom website takes a lot more energy and time, hence they are more
expensive.
Factors to consider before buying a website maintenance package
Following are some of the many factors one should consider before buying a website maintenance package:
Size of the website
The goal of the website
Customized content (if required)
Outdated website
Time dedicate to website maintenance
Experience with website maintenance
Growth of business
Keep in touch with Red Berries – A Digital Marketing and website design agency in Dubai to keep yourself updated on emerging issues in the Digital industry. If you have any questions, require any help or you looking for a Digital Marketing Agency Dubai then, contact us today!. Also like us on Facebook, follow us on Twitter and Linkedin for more updates.