From the moment a user arrives on the site to the moment they make a purchase or return to the site, again and again, our team of designers, developers, and marketers considers every aspect of the customer's experience. Because of this, we're doing everything we can to provide your customers with an outstanding online purchasing experience.
What does e-commerce Web Design involve?
When developing an e-commerce website, any e-commerce web design company will take the following three factors into account:
Visuals
Just as crucial as any other component is making the website appear professional and trustworthy. People may not want to spend as much time on your e-commerce website if it does not look professional. This could significantly impact your conversion rate and natural search engine ranking.
Usability
Making sure that links get to the right page is critical for any website, but the consequences of failure on an e-commerce website may be disastrous. Having poor usability in your e-commerce web design is akin to having a shop where no one can physically walk around to look at the merchandise.
Payment Options
The actual payment option is crucial because it might dictate some design elements and affect functioning. On the e-commerce web design side, knowing what payment option your website will employ will allow you to build the remainder of the e-commerce web design around it. PayPal, Sage pay, Worldpay, and Streamline are examples of payment methods.
All three factors are equally important because if an e-commerce web design service ignores one of them, the website in issue will fail.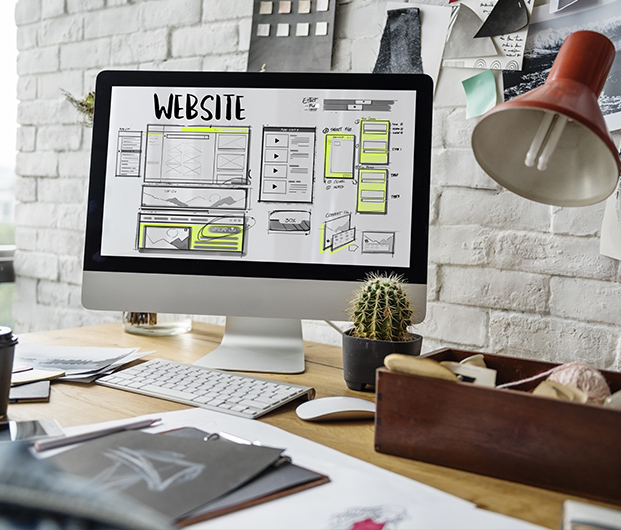 Benefits of Using Redberries New Media for e-commerce Web Design
Redberries New Media recognizes the significance of e-commerce websites for individuals who require them. We utilize this knowledge to ensure that each and every one of our clients believe that we are the best e-commerce web design company in the UAE. From the start, we'll tell you precisely what you can expect and what you can expect to achieve.
Digital marketing agency Redberries New Media has extensive experience in both marketing and site design. Our unique position as a digital marketing firm allows us to offer high-quality e-commerce web design while also considering variables that an e-commerce web design company would not believe. Traditional e-commerce web design companies do not examine factors like search engine optimization.
You can call us at +971 4 295 7880 or email us to get more information.
Even for those who don't sell online, e-commerce website design is a crucial part of their channel mix. To do this, you'll need a user-friendly website, safe to pay with and displays your products in the greatest light.
E-commerce Website Design & Development
E-commerce platforms include Magento, WooCommerce, BigCommerce, and more. When setting up an online store, it can be challenging to determine which e-commerce solution is best for your business. Our advisors can recommend based on a brief conversation about your company, goods, target market, and budget.
E-commerce Functions
It's feasible to do all of this because of the open-source software we utilize. Hence, please let us know if you have any specific requirements for designing your e-commerce website.
Many of the most popular e-commerce systems, such as Sparkstone, OrderWise, Salesforce, and SagePay, may also be integrated with your website.
E-commerce Experience
It's safe to say that Redberries has a lot of expertise in this field. Aside from conversion rate optimization, we've also worked with these companies on user experience design and a comprehensive range of custom innovations. As a full-service digital marketing agency, we can also provide continuing support with digital marketing, such as PPC services, SEO services, social media marketing, and email marketing, to drive traffic to your new website.
View some of our most recent e-commerce web design work in our Portfolio.
Find out how we can help you by contacting our team below.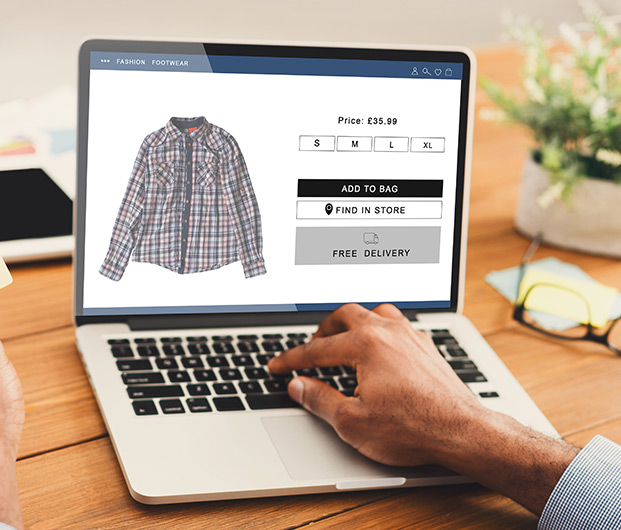 Why choose Redberries?
There are now many options for setting up an online store for your e-commerce company. When it comes to website design and development, Redberries is here to guide you every step of the way. We've been in business for 16 years now, and we've learned that every client is different and deserves individualized attention. There is more to us than just a piece of software; we are online experts.
E-commerce Website Design Since 2006
Easy-to-Use
You'll be up and running in minutes with our user-friendly Control Panel. Make changes to your product catalog by adding new items, modifying promotions and deals, and updating banners and advertising. Export your catalog, regulate meta content and review orders.
Experience
E-commerce website design and development have been our specialty since 2006, founded in Dubai, UAE. Our Redberries software, which powers over 800 e-commerce sites, is always being improved.
Bespoke
Instead of using a pre-made template, your Redberries E-commerce site has been custom-built with your business and target market. We've created more than 800 websites for a wide range of clients throughout our career.
Care
When you need support or advice, we're just a phone call or an email away. Our goal is to provide you with a friendly one-on-one service where you can discuss your website with the designers and developers who are working on it.
How can we help you?
Problem defining Solutions
For the e-commerce industry, we've developed a number of the most widely used current solutions. Let's see if we can customize them to suit your requirements better.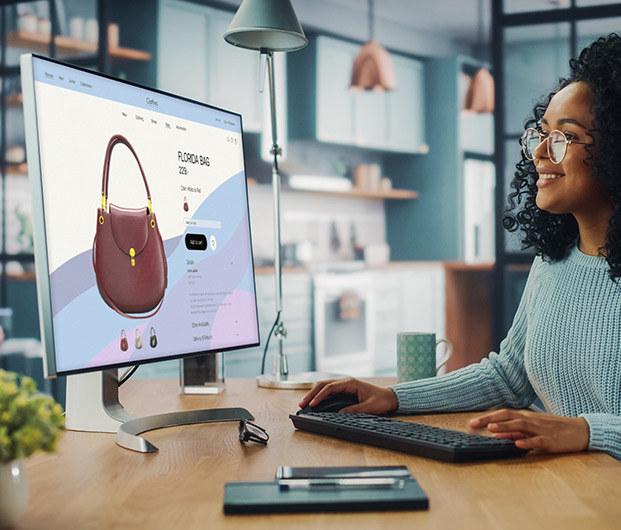 Beautifully Designed, Responsive Website Designs to Capture Your Audience
We've made it our mission to produce engaging and interactive web design experiences that make a difference. The importance of a well-designed website cannot be overstated, especially in the eyes of potential clients. Visitors establish an opinion on your website within 50 milliseconds or 0.05 seconds. Because of this, people either stay or go. Are you confident in your website's design, aesthetics, and build?
Our belief as the leading e-commerce web design agency in Dubai is that by focusing entirely on website design, we're better able to assist our clients in taking advantage of the opportunities provided to them online and fostering a relationship based on mutual trust.
Whether you're a local, small business looking to establish an online store to better compete with your rivals, or an abased e-commerce company looking for a makeover, we have the expertise to deliver the results you want.
The Redberries Approach to E-commerce Design
Step 1
Research
For each project, our professional team of web designers follows four important processes to ensure that the customer is presented with a beautiful, useful, and relevant design at the end of a task. When working with clients, we follow a simple rule: listen to what they want and then do it. Simply put, it's a no-brainer.
We do a thorough investigation into your project. Your objectives and goals are laid forth in a detailed brief that we prepare for you. You and our team of experts from various fields will then work together to determine to who this applies to. To put it another way, who is our target audience, and how do we persuade them to approach us?
Step 2
Concept
We begin conceptualizing the project after the first phase is complete. This is the place where we let our imaginations run wild.
To develop all the layouts and concepts that we believe could satisfy the problems posed in brief, we need to create a design blueprint. To ensure that we've covered all of the bases and that everyone is satisfied, we go through several iterations of the template.
Step 3
Visualize
At last, after all that preparation, we can sit down with our notebooks and sketch out our ideas in all of their glory. Make sure what we're doing aligns with your brand and the messages you want to convey by drawing inspiration from your ideas and suggestions.
Although, in certain circumstances, the client has no clue how their website should appear and feel, this allows us to immerse ourselves in your customers' world, guaranteeing that we develop something that genuinely connects with the target market.
Step 4
Build
This is the stage where we use our wizardry and wisdom to weave web magic once the design has been accepted. By utilizing the most recent techniques, we build a website design that is both user-friendly and scalable to meet the ever-changing demands as it expands.
We conduct a series of dynamic tests to assure the site's responsiveness and functionality.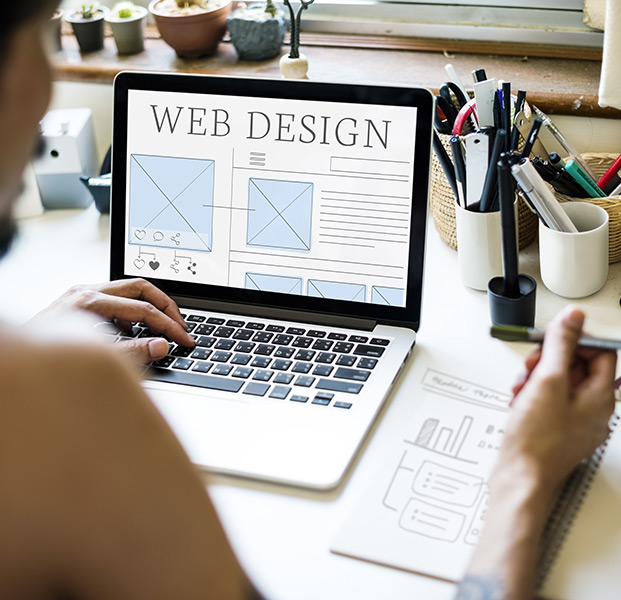 Responsive Web Design
Our team's creative ideas place a high value on responsive design. Aesthetics and innovation are vital for a website, but it should also adapt to the platform, screen size, and orientation of the user to better serve them. If you have a terrible experience on a website, 88% of people are less likely to return. Slow loading speeds, uninteresting information, and a lack of call-to-actions are all examples. When it comes to building websites for e-commerce platforms like Magento 1, Magento 2, and WooCommerce, our team of creative thinkers have a wealth of knowledge.
Customers can expect nothing less from us regarding e-commerce website design. Let's get your website up and running correctly as a final step.
Your Expert E-commerce Web Design Company in Dubai
Our Vision & Approach
As a web design company, our goal is to help our clients build the greatest online store possible for their available money, but our job doesn't end there. Once the site is up and running, we frequently lend our expertise and resources to help a multidisciplinary marketing team promote it. We've learned from experience that having a website built as part of a marketing strategy ensures you're always prepared for the following steps, which reduces the risk of unpleasant shocks that could undermine your confidence and cause your marketing efforts to stall. We value our relationships with clients, so we'll take advantage of any occasion to meet in person, no matter where you are in the UAE. For us, it's all about learning about you and how your company fits into the larger scheme of things in your field.
What you need from a website...
Training
You may want us to show you how to add more products and photos or just get you familiar with your new e-commerce web design after constructing it. We can handle any ongoing updates you desire as part of a complete solution, but this is all we can do to assist you.
E-commerce Strategy
When it comes to an e-commerce strategy, website design isn't the end of the road. We can provide a comprehensive solution that gives your business the best possible chance of success by looking at how, where, and why you want to start an internet business.
Conversion Rate Optimization (CRO)
It's possible that the website you begin with may not be what you end up with. We can track and improve your website's performance by observing how visitors interact with it. One of the essential facets of our approach is making your website more saleable.
Easy to use website
Additionally, our e-commerce websites are completely mobile-friendly and responsive, which means that your site can take orders no matter what device a customer is using!
Secure Payments
You may use several payment gateways with WooCommerce, all of which are protected by SSL certificates, ensuring that your customers' personal information is safe and secure.
Superior Server Environments
It's critical to a website's conversion rate optimization (CRO) to reduce user wait times for items to load and happen on the site. As a result, we provide dedicated server settings where your websites can reside. Increased website performance and decreased server/web attack risks can be achieved by using this method.
Make quick work of the boring bits
It's fantastic for automating shipping rates, inventory management, and order processing. WooCommerce can also be fully connected with your tax returns, making the procedure a breeze.
Scalability
The product range you offer might change from season to season. With WooCommerce, your retail business can evolve and grow at whatever pace you need. The sky's the limit for the number of products and pages.
Integrations
Do you already use any software? Your website's inventory should be synchronized with your store's inventory. WooCommerce has a plethora of connectors available to you (most without additional costs)
Aside from That
As far as WooCommerce's e-commerce capabilities are concerned, there are numerous options. These include discount codes, user-tailored content, and much more.
We have a unique approach to e-commerce web development that sets us apart.
CREATING AND CONCEPTUALIZING
In the beginning, it's all about brainstorming. Making an effort to find a variety of design styles that fit your business and target market in this stage, the primary goal is to determine the best way to display your products.
CODE AND DESIGN, AND CONTENT CREATION
To guarantee that all information is delivered clearly and straightforwardly, e-commerce website creation is focused on. An important role is played by copywriting and editorial design at this stage. The method of your website must be consistent with your overall brand identity.
CORRECTIONS AND AMENDMENTS
This phase focuses on improving the website's design and content. Ensure that the design will look its best when released and entice buyers to buy.
GET STARTED AND GET SUPPORT
Your e-commerce website will be developed by us, beginning with creating your brand guidelines. It's our job to make sure your website shows up when it's supposed to!
We'll help you when the job is over.
We have a specialized team of specialists who can assist you in making the most of your newly launched website.
Our support team can help you keep your website up to date by providing updates, fixes, and upgrades if you need them. If you're interested in increasing traffic to your website, our digital marketing team can help. They can do this through SEO (search engine optimization), PPC (pay per click), or content marketing. Alternatively, you can collaborate with our marketers and designers to enhance conversion rates by changing the site.
Because we care about your success, we'll always be there to support you with the help of our team of experts.
It doesn't matter if you already have a website that you need help developing. Whatever your needs, from a one-time upgrade or bug fix to a monthly maintenance contract, we can help.
Lets Get Started your project
Fill the form and give us more information about your needs and wishes. First step to your new website
REQUEST QUOTE
Email us, we are sociable!
All queries are answered within 10 hours during work days and within 16 hours during holidays.