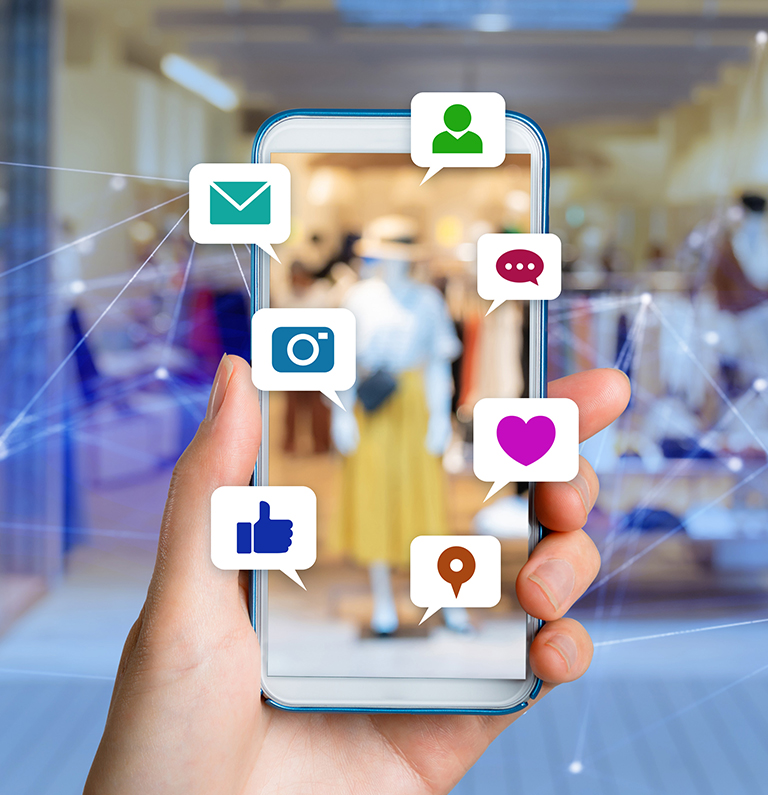 A savvy Instagram marketing firm
Redberries is an astute digital marketing firm. We have created a one-of-a-kind combination of innovative thinking and applied mathematical know-how that enables us to build cost-effective advertising across paid social media. We have vast experience in social media marketing, including Instagram marketing. When it comes to Instagram, we've seen the tricks of the trade.
Redberries is an Instagram marketing agency comprised of a broad collection of digital marketers, each with unique strengths that, when combined, produce the best results for our customers. Our clients have praised our social media advertising services, which include Instagram marketing. We consider it a job well done when our clients are satisfied. We have worked with some of Kuwait's best brands which come from various backgrounds, including finance, fashion, and information technology. There is no such thing as a "one-size-fits-all" business approach, which is where we come in. We create personalized and 'fit to brand' Instagram advertising campaigns that consider each brand's unique marketing objectives and pain concerns.
See the difference by partnering with a social media agency that cares. Contact Redberries right away!
What we like best about Instagram
When it comes to reaching and engagement, Instagram ranks second only to Facebook. With 26.9 million users currently on this site, this is a gold mine for marketing experts. Instagram is unrivaled when it comes to getting noticed. After Facebook advertising, Instagram marketing is our favorite game. We've played it before and have a good handle on it. Your audience's attention span is finite, and there is no better way to captivate it than with slick Instagram marketing campaigns. We can advise you on the best techniques and approaches to use.
This platform is far more than just Instagram sponsored posts. We stay up to date on the latest app trends and methods, knowing what works on this extremely popular social media platform. Instagram advertising campaigns that are optimized are your best bet for acing social media marketing. We can assist you with the optimization process.
We feel that Instagram's strength resides in its rich images and great engagement. No other social media site can compete with these distinguishing features. Stories, polls, and interactive feeds make it an appealing venue for the social media-aware populace. Instagram users devour interesting material. This is where you can anticipate your brand's unique Instagram advertising efforts to attract your target audience's attention. Instagram is expected to earn $33.71 billion in ad revenue this year, according to forecasts. Instagram is also the only medium where marketers are seeing significant growth in usage. No company would want to miss out on the marketing money generated by this online advertising platform.
We like Instagram so much as an ad agency that we've developed a list of its characteristics that we use to our advantage:
– Instagram has a ridiculously high rate of reach and engagement. With 800 million monthly users and rising, we love to catch our audience here.
– Instagram Business Manager simplifies Instagram marketing.
– Instagram advertising may also be created via Facebook Ads Manager, which we enjoy because it makes our lives easier.
– Instagram provides brands with several marketing objectives, including: Brand recognition
– Obtain Traffic (for clicks to your website or the app store for your app)
– Installs of apps
– Participation (for post engagement only)
– Conversions and video views
– Instagram's creative ad formats have spoiled us for choice. We can best link our Instagram advertisements to our clients' marketing goals by using image feed ads, video story ads, video feed ads, carousal feed ads, canvas story ads, and more.
– Instagram targets users based on their Facebook audience. That's one less thing to worry about—talk about getting the most out of your time and effort!
– Instagram advertisements allow you to customize your target audience by demographics, subjects, interests, positioning, lookalike audiences, custom audiences, and more. This brings you one step closer to mastering your Instagram marketing efforts.
The list does not stop here; there is more! Consider how you may use all of these fantastic qualities to make your Instagram advertising attempt into a profitable endeavor. Redberries, as a social media marketing agency, can make this a reality. We've been there and done that. Do you want to take your brand's Instagram advertising initiatives to the next level? Simply give us a shout!
Our innovative Instagram marketing methods
We are an Instagram advertising agency that is data-driven. We go through data to find the most influential metrics that deliver. We rely on analytics to determine the most popular technique for a brand's approach to Instagram advertising. This ensures that our approaches are dependable and result-oriented. In Instagram advertising, there is no 'one-size-fits-all' strategy. We tinker with our tricks until we find one that is best suited to a firm.
Here are a handful of the Instagram advertising tactics we employ:
– Recognize your competitors and never underestimate your peers. An in-depth examination of their strategies aids in the formulation of the best formulae for outwitting them.
– Developing an interest in the consumer—Instagram users who are part of your audience have likes and dislikes that will reveal which material resonates with them. We base our Instagram advertising on these discoveries.
– Using user-generated content (UGC)—Building genuine relationships with your target audience is essential for healthy brand marketing through relevant content. UGC increases your connection with your audience while leveraging advertising with minimal investment.
– Using the power of hashtags and CTAs—using popular and relevant hashtags can drive massive conversions. Expect your Instagram advertising to be viewed and examined by using appropriate and hierarchical hashtags. A clear call to action and landing page linked to your Instagram advertisements will direct your desired audience exactly where you want them to remain and convert.
– As a data-driven digital firm, we have always emphasized analytics and its significance in accurately measuring your advertising efforts. Aside from
– Google Analytics Instagram Analytics can help you drive and optimize your Instagram advertising strategy.
Redberries employs effective techniques. We are an Instagram advertising agency that enjoys experimenting with and implementing efficient marketing strategies. As a social media advertising firm, we also provide a variety of other services. Intrigued? Drop us a line to learn more
An Instagram marketing company that genuinely cares
Redberries is a caring Instagram advertising agency. We understand your specific company requirements and objectives. Our team of creative digital marketers with strengths and expertise in many industries is available to devise the best online marketing solutions for you. Our social media marketing strategies have yielded significant results for our clients. Did we also mention that we are a Google partner? You can rely on us to turn your Instagram advertising strategy on its head and get excellent results. Creating the proper Instagram campaigns with suitable Instagram advertisements and know-how necessitates tenacity, strategic thought, and skill. We aren't only familiar with Instagram marketing. We are experts in this field!
Advertise like a pro on Instagram. Discover how analytics and data, combined with some of the most brilliant marketing methods, can transform the way you market on Instagram. Contact us now!
Give us a buzz if your business needs a digital kick start!