What is Search Engine Optimization (SEO)?
SEO, or search engine optimization, has come a long way in the last two decades, much beyond our wildest expectations. The concept of monitoring search engines is evolving every day, whether algorithm upgrades, syncing with numerous devices, or traffic monitoring. It's indisputable that SEO contributes significantly to a company's total ROI in a setting where cellphones are the most common beginning point for consumers searching for something online. Hey, if you're interested in learning how to optimize your website for search engines, take a look at this link.
Audit of Search Engine Optimization
Examine the strengths and weaknesses of your current website, as well as recommend potential search engine prospects.
Marketing with Content
To influence decisions, reach out to your consumers and prospects with consistent and valuable information.
Keyword research
Keywords play an essential part in matching your website content to what your target audience is looking for on the internet.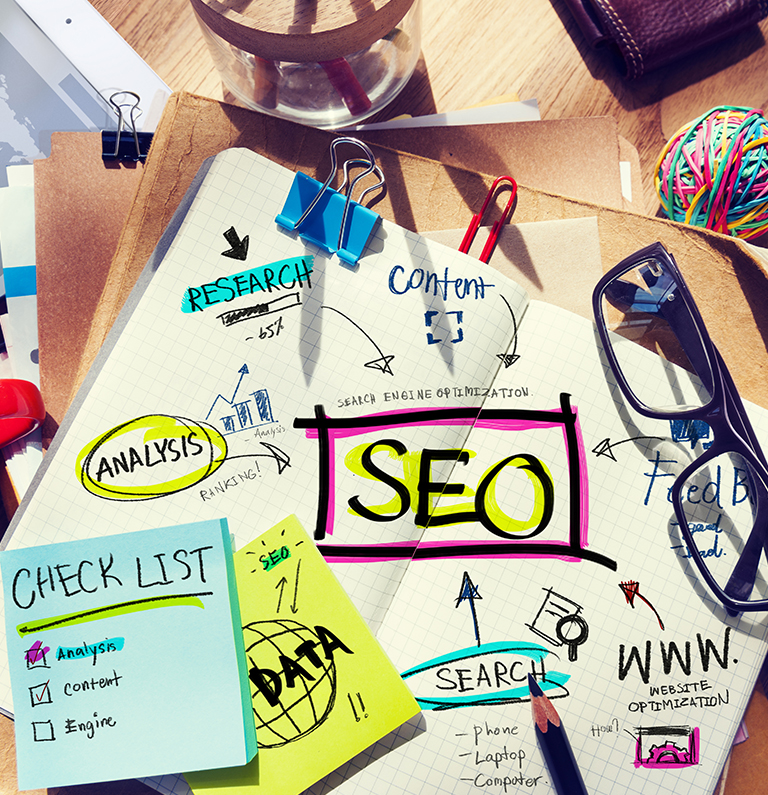 Mobile-friendly website designs
Search Engine Optimization for Charities
By being discovered by the proper individuals, you may broaden the reach of your causes.
Optimization for E-Commerce
It may appear to be simple, but it is not—increase site traffic by carefully considering the use of broad keywords, product specifications, and other factors.
Packages for SEO
We understand how SEO works since we have local market knowledge, so we can rank your website higher for the terms you want us to rank for. We have a track record of working on SEO for a variety of clients in various industries.
What is SEO, and how does it work?
SEO is neither a science nor an art; it is a collection of strategic methods combined in the hopes of achieving more significant results across numerous platforms. The tried-and-true tactics developed over two decades are now altering the way digital marketing agencies and SEO firms operate. Not only that, but these strategies also significantly increase a website's visibility and produce ROI, making it a win-win situation for all parties involved.
But how does SEO benefit a company's bottom line?
This is an excellent question! But first, let us build up a fast, incredibly realistic scenario for you. Have you ever considered how similar SEO is to the stock market? No? It's now or never. Consider SEO in the same way that you would a stock market. Both are investments that will pay off in the long run. You can't expect your stocks to generate profits right now. SEO, too, takes a great deal of love and attention to make it work wonderfully for a company. You're correct: a calm, steady approach and good thinking triumph over all else in this race.
You will undoubtedly experience growth if you choose your stocks correctly, i.e., your keywords, based on the knowledge you have at hand. Your ranking will increase or decrease depending on how you play your cards. Patience and devotion are two essential qualities that can help you through the ups and downs of rankings and algorithm changes. And this is how we may direct ROI to a business and substantially impact its growth. The forward-thinking approach prevalent in the financial market also leads to knowledge in the SEO sector. As a leading SEO agency, we're fully committed to this thought process.
Here's a handy guide for you if you're wondering what makes SEO function and align with the expanding needs of marketers all over the world.
For social updates, Like us on Facebook, follow us on Twitter and LinkedIn.
What they didn't tell you about online lead generation using search engine optimization!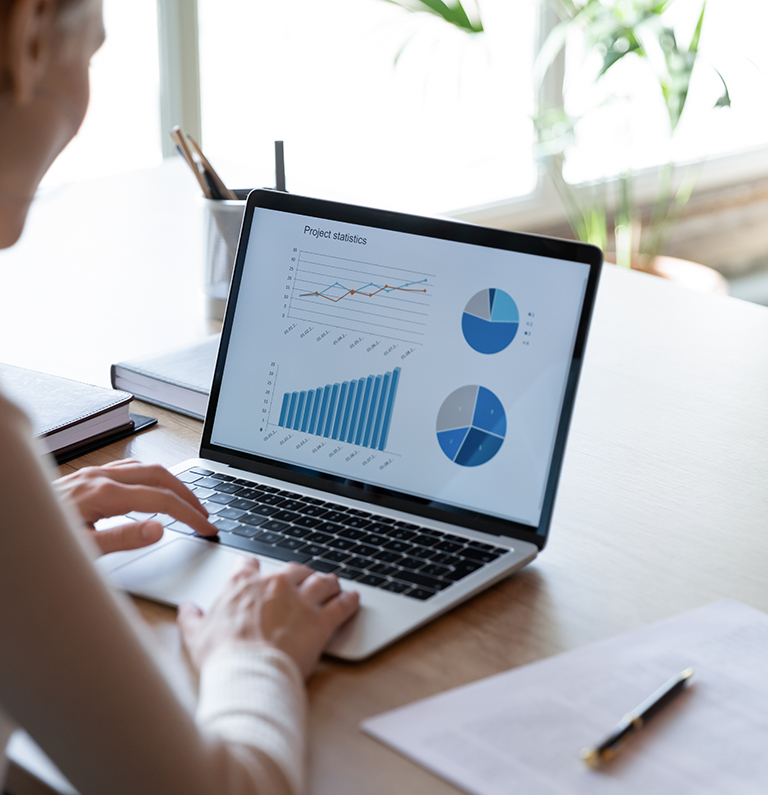 Has an SEO company in Bahrain promised you x-number of web leads?
SEO is the process of optimizing your website to serve search engine queries better. When a visitor initiates a keyword search, SEO plays a role in displaying a specific search result that best meets the visitor's needs.
The usefulness of a keyword is determined by its web traffic. However, search results aren't always enough to persuade visitors to make a final purchase, post an inquiry, or generate prospects. Should we ask if SEO is outdated because it doesn't cause the appropriate number of queries or generate revenue? Or does it serve a higher purpose and serve as an effective long-term plan with numerous advantages?
Many people associate search engine optimization (SEO) with internet enterprises. They invest in SEO in the hopes of generating additional revenue and expanding their business. It is true that it performs and expands commercial opportunities. However, this does not imply that optimization measures automatically help organizations enhance their cash flow. To be more specific, it may or may not assist in the rapid generation of new queries or business leads.
Practically speaking, when it comes to SEO, it's typical practice for firms considering a long-term investment in their online marketing tactics to request a particular number of leads per week or month to determine the ROI on each dinar spent. Many people mistakenly believe that the effectiveness of optimization is determined solely by the amount of money that comes in. They rarely realize that this isn't the best technique for a marketing campaign.
In general, SEO is thought to be capable of generating many inquiries. There are so many queries that the findings can assist a company's revenue to grow and tell its success story. However, if this isn't managed correctly, businesspeople may find themselves making incorrect assumptions and jumping into the SEO business without fully understanding its fundamentals.
As a responsible SEO company in Bahrain, Red Berries Digital assists businesses in determining the true objective of SEO. We don't declare ourselves SEO gurus on the spur of the moment. We understand that enormous power comes with significant responsibility, and we aren't scared to accept it.
Keeping this in mind, as a digital agency, we're committed to debunking common internet industry falsehoods. The agency is not making any bold claims as part of this endeavor, such as that SEO will result in a flood of inquiries. There is no magic or sorcery involved with an optimization that can assist organizations in achieving their goals. This isn't a sprint; it's a marathon.
"SEO isn't going to bring in a lot of searches." However, it will undoubtedly improve the chances of dealing with and addressing inquiries."
As a marketing technique, SEO digs deep into web pages and reinforces them with unique and compelling content to engage visitors and assert dominance over a topic. In a nutshell, it just gets the website ready to respond to searches and provides value to visitors looking for relevant terms.
It's the same as any other form of marketing, such as print or radio advertising. The only difference is that the internet's medium and search engines have turned into our playground. SEO is a tool that can help a firm become more vital, just like branding, logos, catalogs, and other marketing materials.
As a result, Red Berries Digital has debunked yet another SEO myth about continual lead acquisition today. Keep in mind that SEO will never guarantee a constant stream of search inquiries. However, it can undoubtedly assist your company in establishing a positive online presence and entirely satisfying a user. As a result, the visitor receives more value, and search queries are influenced.
Let's get your project started.
Fill out the form to tell us more about your requirements and desires.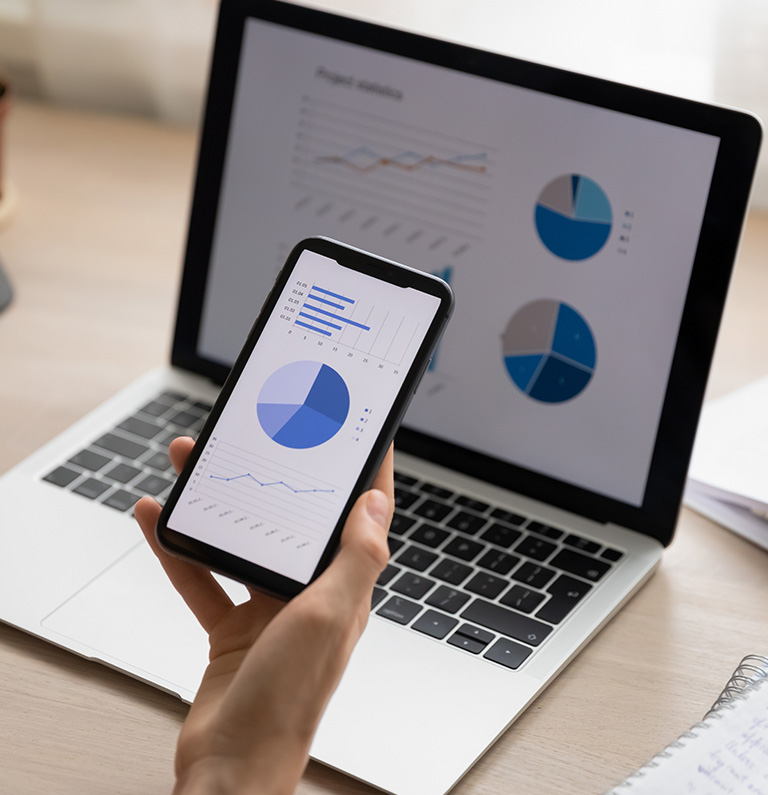 Who should oversee your SEO? Should it be a SEO firm or your internal IT team?
There are a few things to consider before selecting an SEO firm.
SEO is thought to be a technical term. Members of an in-house IT team are considered to be technical computing professionals. Most businesses feel that their IT department can handle SEO duties with ease because of this specialized knowledge. This is one of the main reasons why many companies in Bahrain hire IT teams to undertake ongoing web and search optimization rather than hiring SEO agencies in Bahrain. Delegating this crucial web advertising approach to an in-house IT team, however, has its drawbacks.
In a nutshell, the IT staff can handle a wide range of tasks and is knowledgeable in various technological fields. However, this does not make them qualified to deal with the fast-paced SEO Bahrain markets. Such heavily online-dependent markets necessitate a high level of attention and a quicker way for performing this crucial optimization function.
It cannot be denied that some aspects of search engine optimization, such as making a website crawlable, setting up redirects, coding, and so on, necessitate technical knowledge. The unique internet promotion function, on the other hand, requires a lot more in terms of marketing, promotion, and content creation.
To develop the appropriate SEO plan that can help suit a specific organization's needs, all these methods must be approached imaginatively. Appointing an in-house IT team for SEO can be a bit chaotic, and it doesn't offer much for a firm in terms of helping it achieve the most benefits. It's easy to lose sight of the fact that this is a continual workout. When compared to SEO organizations' work plans, IT departments lack hope and foresight. They carry out orders and are not experienced, online marketers. Everything must be outsourced, including content development, which might be challenging to oversee.
The top SEO company in Bahrain and SEO consultants, on the other hand, are entirely qualified to handle site optimization. Such an agency is highly specialized in its services, thanks to the strengths of digital marketers such as account managers, SEO content writers, and marketing professionals. They work according to a pre-determined approach to strengthen a website and make it more functional.
Check out how Bahraini SEO firms promote myths!
You might believe or expect that once you start investing in SEO and hire an SEO company in Bahrain, there will be an outpouring of information. Your company's inboxes will be flooded with hundreds of fresh inquiries. Or you can end up with a lot of new clients because of a lot of query conversions.
That is, without a doubt, the case. But remember the golden rule. All you must do now is give it time. Have faith in the process.
For an effective SEO strategy, time is undoubtedly a stabilizing aspect. Desirable business keywords take time to rank in the search engines—such keywords aid in enhancing website exposure and are advantageous in the long term.
In a fast-paced SEO industry like Bahrain, stories abound. Before investing in their marketing budgets, people get excited and expect a speedy increase in revenue. And if that doesn't happen in the following months, their enthusiasm will wane, and they will become disillusioned.
Furthermore, they are disappointed with the low query volume and returns on investment. And, on occasion, the worst rash decision they make is to fire the digital firm and return to their old marketing techniques.
Red Berries, a renowned SEO company in Bahrain, has taken the lead in correcting common misconceptions about internet marketing. Optimizing websites for search engines may appear to be a painful investment at first, but it will show to be an elixir for a company's future success. SEO methods may assist any company in improving its online brand presence and making a lasting impression. It even increases the visibility of a brand in every search that is initiated.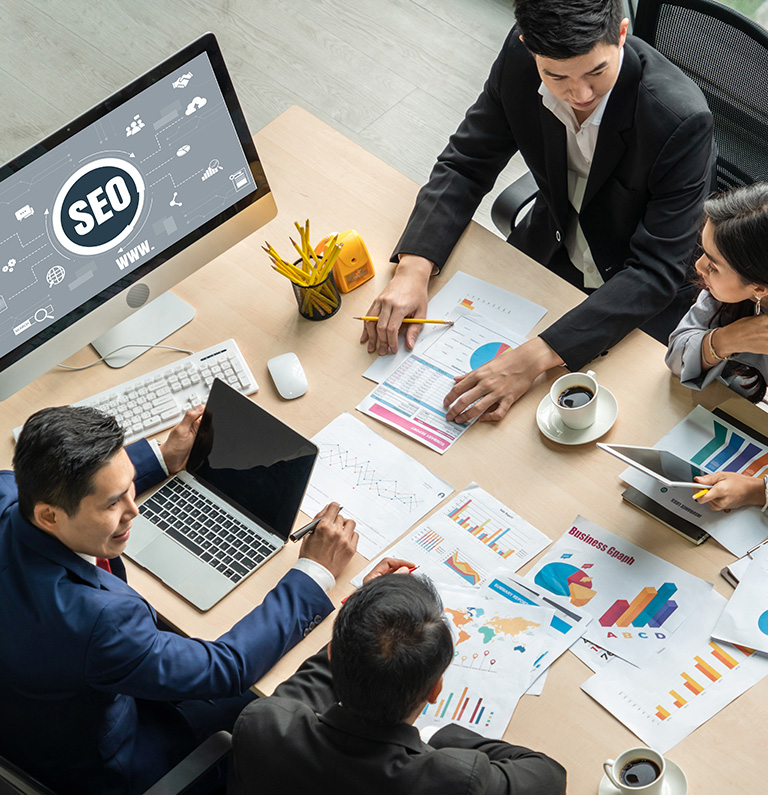 So here we are, debunking the first and most crucial myth: SEO generates immediate revenue. No, it doesn't. However, we are confident that it will enable a company to outperform its competition more effectively and long term.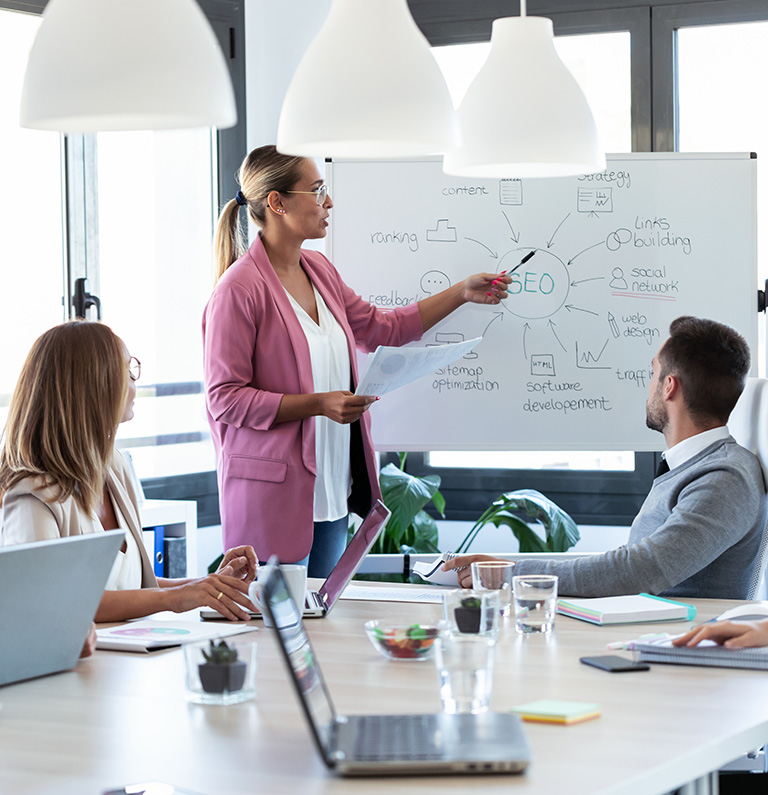 Bahrain's SEO Expert Consultancy
Red Berries is Search Engine Optimization (SEO) agency that can help your company increase its visibility by ranking your website on the first pages of search engine platforms like Google, Bing, and others. Our team of SEO experts in Bahrain can assist you in optimizing your website for search engine platforms and achieving top rankings in Bahrain and around the world. To deliver the best SEO services in Bahrain for your website, we collaborate closely with your team and involve them in the entire search process from the beginning. Our SEO professionals undertake extensive research on your organization, its consumers, and rivals. We want to gain a better grasp of the entire business to tailor-make and deliver the best SEO services in Bahrain to you. We are happy to be digital ninjas! We understand how SEO works since we have local market knowledge, so we can rank your website higher for the terms you want us to rank for. We must be entirely open about our efforts.
We are Bahrain's best SEO business, with a thorough understanding of the industry and market, essential for a genuinely successful SEO approach. It's not a one-time wonder but a regularly channeled process in which research on the proper keywords based on competitiveness generates conversion potential. We employ best industry practices as SEO professionals in Bahrain to ensure that we follow all search engine standards during the optimization process of your website and that we do not use any unethical methods to rank your website higher on search engine platforms.
Questions? Request a complimentary consultation. If you have any queries or need further information, don't hesitate to contact us by email at (enter email) or by phone at (insert phone number). We're always willing to assist!